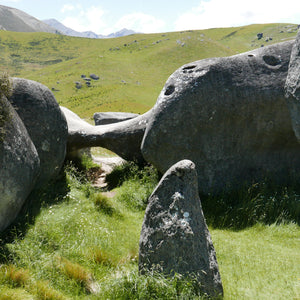 40. Te Kohanga - Castle Hill Temple
The final portal opening took place on Summer solstice 2022 at Kura Tawhiti - Te Kohanga. This beautiful sacred space holds a huge amount of occult energy all on its own. My subtle energetic temple making process was purely in aid of anchoring the final and third point in my Canterbury triangulated portal opening, with the help of my daughter and fellow energy worker, Phoenix.
Above images show the spot where we grounded our occult wee temple. Buried under the rocks is the shaft of the clear quartz wand.
---