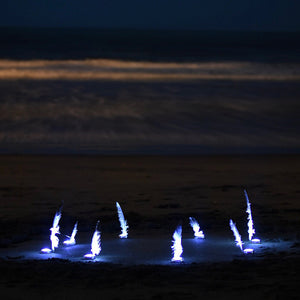 29 Masters 2023 - The final year & Patronage Programme
Being an artist is often considered a blessing and a gift. But what is it to be given a gift that is not essential to our basic worldly existence? 
At the basis of everyone's existence, however, is the desire to be happy, to feel confident in one's place in life, inspired, joyful, safe and loved. This is the essence of what it is to be human, and this is the underlying ethos of Anneke Art's work, to inspire love and light.
One doesn't choose to be an artist, it chooses you. It is not something that one simply does, it is who the artist is; a creative being. Anneke has always known that being a creative being was not a conscious life choice.
At the beginning of 2020, Anneke made the bold and brave move to leave the security of corporate life to go back to art school to pursue her Master's degree. Anneke will be completing the final year of her research project in 2023.
Through her art practice, Anneke seeks to encourage people to feel good, inspired, present, grounded and at peace with themselves. Anneke knows art has the power to heal, and uplift one's essence guiding it to evolve. She is consistently striving to create art that comes from the soul and therefore speaks to the soul transposing this energetic and esoteric language that emulates from her work.
At the suggestion of friend and mentor Deborah McCormack, the Director of Scape Public Art for the last 20 years, Anneke has created a patronage programme, inviting supporters of the arts and namely Anneke's art journey to be an intimate part of her creative process and journey.
By joining Anneke's Art Patronage Programme you will have the opportunity to support Anneke's inspirational and ambitious art projects as she embarks on the mission of taking her work to the world.
Artistic Life is that of surrender 
ANNEKE'S MASTERS RESEARCH PROJECT:
Masters in Creative Practice 2020 - 2023
Research Project Title: "As Above So Below"
Domain: Installation & Photography
Synopsis: The legend of the "Seven Sisters of the Pleiades" is a story that has been revered by poets, priests, prophets, shamans, storytellers, artists, singers, and historians throughout time. The Pleiades star cluster, otherwise known as M45, or Matariki by native New Zealanders has played a significant role in the lore of multiple cultures, whilst also being prevalent in the current living traditions of the indigenous people in North & South America, Australia, Japan, and the Pacific. The cluster has also pointedly been referred to in ancient mythology that has been passed down through written and visual sources from ancient Egypt, India, Greece, and South America. Appearances of these myths are also present in the modern world, from Halloween to Atlantis, the Titanic, and Subaru automobiles. Serious astronomical research supporting this myriad of mythological explanations also exists, thus providing the modern world with a scientific understanding of the Pleiadian star cluster's ultimate omnipotent existence in our collective history; We are all one under the stars.
"As Above So Below" is an artistic exploration of how we are all one people sharing one planet, united by our collective connection to the stars.
Mission Statement: To create a body of artwork that reflects and symbolises a connection to divinity or prime creator, via the integration of Earthly environments in correlation to the Pleiades star cluster; a collection of artworks that seek to provoke a connection to the divine in daily life.
Research Questions: 
How can Anneke best manifest a collection of artworks that embodies our Earthly connection to the stars? In particular the Pleiades/Matariki.

What are examples of different cultural connections to the Pleiades, past present, future? 

How can artworks of the Pleiades be used to reconnect to a ritual art practice/spiritual reconnection in a present context?

In what ways can one's connection to the Pleiades be actualised without reappropriating cultural symbology or ritual process, but at the same time respect and honour ancient connections?

Is it possible to manifest artworks that align with the Pleiades star cluster in correlation to the land as well as the esoteric?
Proposed resulting installations: Originally, this work was intended to be a large-scale circular sculptural light installation, with the capability to be reproduced in a bespoke number of seven units, flat-packed and sent to specific locations around the world to be semi-permanently installed in seven locations, with seven earthly women acting like the Seven Sisters all conducting the same ritualistic practice at winter and summer solstice depending on the hemisphere of presence, asking the same of the stars, the earth and themselves. Collectively grounding their love and light into the earth in correlation to our collective heavenly connections to our astral ancestral home. Anneke is still intrigued by this possibility but has chosen instead to pair the project mainly with light and its digital capture.
For many years in the late '90s and early 2000s, Anneke worked consistently with the technology of lenticular printing. Now with the advent of NFTs, the techniques employed to create those works are now applicable to the Metaverse. As the ethos of these works relates so closely to a metaphysical interpretation of an ancient collection of stories, utilising this tech in printed lenticular media as well as in the ether creates unlimited possibilities for the types of light installation and accompanying photographic renditions.
As a core idea, however, anneke intends to create 3D portraits of women who lend themselves to the diverse cultures these stories of the 7 Sisters embody using light and projected imagery, somehow tied in with the original outdoor installation concept.


PATRONAGE BENEFITS & LEVELS:
5 K patronage:

A limited edition 600mm x 600m Mandala lightbox, an image of patron's choice.

2.5K patronage:

Limited edition signed Mandala 800mm round print.
Both levels:
A studio visit with Anneke Stewart the artist.

Exclusive preview of exhibitions and collections.

Recognition of patronage on websites, online platforms, and publicity materials. Where appropriate and at the discretion of the patron.

10 x 297mm x 297mm square boxed prints signed and dated Mandala prints. Or 25 x unframed 297mm x 297mm square Mandala prints.

Personalised discount codes for the AnnekeArt.com shop, on certain collections at the artist's discretion.

The Artist is also open to the arrangement of one-off donation between the Patron and the artist, with a tailored benefits package.

You can also support Anneke's project via her Patreon page: https://www.patreon.com/AnnekeArt

To magically entice and subtly ponder the mysteries of this beautiful universe we exist within. For the artwork to speak to ones soul and for the message to be intuitively absorbed. 
To be involved contact Anneke directly at designartnz@gmail.com or 021818014 
---